Lately at my local Forever 21 store they released a limited edition Hello Kitty collection with a lot of super cute home and apparel items. The collection was released on November 15th, today when I went there with my sister a lot of items were sold out, but thankfully I still managed to buy some super duper cute items!
Wow, this collaboration is one of the cutest I've ever seen so far! I'm seriously obsessed as you can see... Oh no oh no, I'm even starting to hear voices saying "come take me home, I know you want me". ** hit myselft on the forehead ** I must think straight! cannot buy cannot buy.....
Well, then I'll show you guys what my sister and I picked up then. **drum.... rolling....** I probably shouldn't over hype this as we didn't buy a lot of stuff, but I feel that we did buy most of the cutest items (at least in my eyes they were the best).
A good thing about this pair of pants was that it only cost me $10.80 so I didn't have to break the bank to buy it. I'm still in disbelief that I spent $19.80 on a small, cheap quality mat that I'm going to place outside my room. I guess the bright side is that I can see and use this mat everyday to tell myself it is worth every single penny I paid for it! Poor Hangyodon..... I'm going to have to step all over your face soon.
Anyways, when speaking of Sanrio, I'm not sure why but a lot of my favorite Sanrio characters are actually not very popular among the crowd. Since these characters are rare, it's hard for me to buy them anymore so hopefully they will create my items of them in the future. **please let my prayers be heard** I guess my taste is just too different.... :(
Patpatapeppy
I really liked this collection when I was a child because all the characters look so dreamy and cute but unfortunately it was popular so the items are not produced often and is extremely hard to find. It's currently ranked as number 33 on Sanrio's 2012 character ranking chart so hopefully in the near future it'll be in the top 10 category!
Pokopon's Diary
This is another one of my favorite character that's not being sold in Sanrio stores anymore due to it's low popularity. Although in real life I don't like raccoon as they are
monstrously huge and always scares the beep out of me bypopping out of nowhere when I go outside for a walk. I'm not sure why, but I always imagine that they will bite my precious toes off if they get hungry enough so I always walk out in fear thanks to raccoon
Kobutanopippo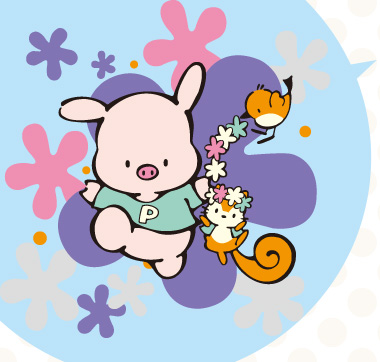 Now here comes the last one for now. This is actually my most favorite character as I was growing up in the 90s. I remember it was Pippo was quite popular too but for some reason it just gradually faded off the market. Pippo is such a cute piggy, but not a lot of people actually remember this character as it's ranked #74 out of 100 Sanrio characters in 2012. That number is just ridiculously low that I think it'll be really hard for Sanrio to produce this character again unless some miracle happen.
Here's a picture of my sister trying on the beanie that was really cute, but we didn't buy it as it's really not that cold here in Cali so no need....
My sister did buy the Kitty inspired jewelry as it's quite classy and pretty looking. In this photo you can see her wearing the pearl necklace. Pretty right? I forgot how much it cost her but it should be around $10 or so.
After shopping my sister and I went to eat at a restaurant known for their organic Hainam chicken. Flavor was average, but I like that fact that they chicken was boneless.
I ordered curry beef with wild rice. Sorry didn't take any pictures of myself that day as I looked pretty messy so next time!
Alright this post is super long so I shall end it here. I'll try to update more often instead of cramming a lot of information in one post. Bye bye.... :)